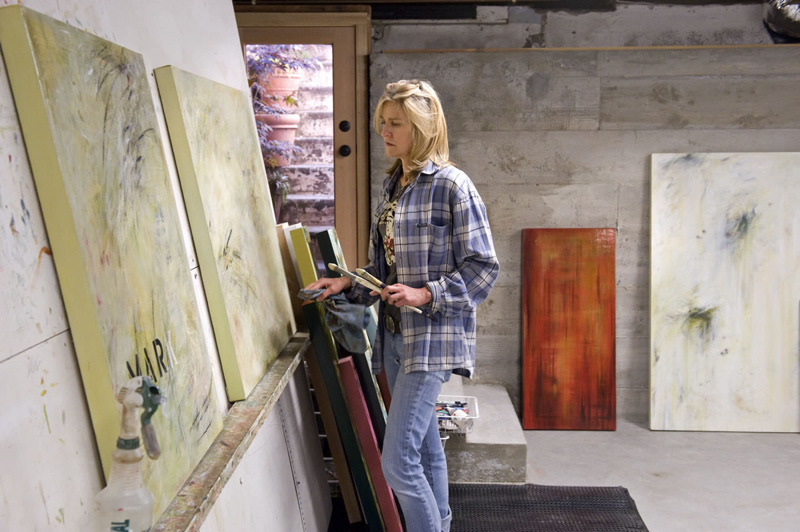 My work is shaped by my experience in the natural realm - years spent exploring wild places and abandoned urban landscapes - and by a passion for earth sciences, which informs both my content and process.
Much of the work investigates change and the act of becoming.  I am fascinated with physical transformation in natural phenomena, whether on a geologic time scale or in a moment's reflection.  A winter beach, scorched riverbed, road cut exposing ancient seabeds, or the forces of wind and snow on a high Sierra pine - all are fodder for my imagination and sense of wonder.  I am equally compelled by human behavior and the transformative role we play in shaping our environment.  A longtime urban dweller and explorer, my daily walks and regional hikes reveal moments of breathtaking mystery and discovery, informing my studio process. 
Growing up in rural northern California with vast trails, fields and creeks at my door and a feral imagination, I roamed, created forts and treehouses, swam and delighted in unfettered freedom. Learning the true nature of plants from days spent dreaming in fields, hay bales and gardens, I carry their secrets today from my own urban garden to wild open spaces.
 A similar freedom guides my studio practice, working intuitively and driven by exploration, chance, and the physical characteristics of pigments, water, mediums, paper and canvas.  My process entails building a history of surfaces, forces and materials over time, working between what I feel and what I know.
biography
Saundra U. McPherson lives and works in San Francisco.
representation
San Francisco Museum of Modern Art Artists Gallery
collections


Oracle Corporation, Redwood City California
Charles Schwab Corporation, San Francisco California
Chazen Museum of Art, Madison Wisconsin
education, affiliations & publications
2010 Winner, NRDC Environmental Art Prize  
2007-08  Folly Magazine  
2008 Studio Visit Magazine
2003 Accepted to the National Association of Women Artists, New York  
1992-1999 San Francisco Art Institute Extension, and University of California, Berkeley Extension  
1989 M.S. Non-Profit Art Management, Drexel University, Philadelphia  
1981 B.S. Anthropology, University of California, Berkeley